Via Algarviana Long-Distance Trail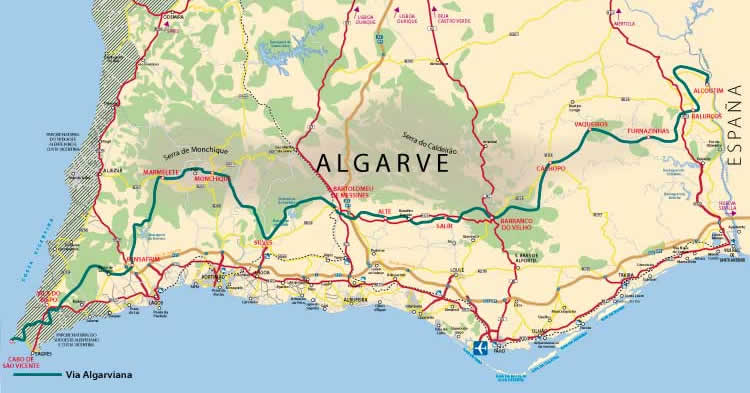 The Long-Distance Trail covers in 14 Sections the Hike from the spanish Border to Cap São Vicente. The Via Algarviana Team also added additional 6 Connection Trails in November 2013 to connect the coast to the Via Algarviana.
New:
For the Via AlgarvianaTrail we book the accomodation and organise the luggage transfer for you.
More Info at: Via Algarviana Accomodation Service
Detailled Maps of all these trails are available in the Online Shop
Sectors Via Algarviana
Number WIP
Name
Length
(km)
Time
Difficulty
Track
VIAALG-1
Alcoutim - Balurcos
24
7 h
moderate
Track Google Earth
VIAALG-2
Balurcos - Furnazinhas
14,3
4 h
easy
Track Google Earth
VIAALG-3
Furnazinhas - Vaqueiros
20,3
6 h
moderate
Track Google Earth
VIAALG-4
Vaqueiros - Cachopo
14,9
4 h
moderate
Track Google Earth
VIAALG-5
Cachopo - Barranco do Velho
29,1
8 h
difficult
Track Google Earth
VIAALG-6
Barranco do Velho - Salir
14,9
5 h
easy
Track Google Earth
VIAALG-7
Salir - Alte
16,2
5 h
easy
Track Google Earth
VIAALG-8
Alte - Messines
19,3
5 h
easy
Track Google Earth
VIAALG-9
Messines - Silves
27,6
8 h
moderate
Track Google Earth
VIAALG-10
Silves - Monchique
28,2
8 h
difficult
Track Google Earth
VIAALG-11
Monchique - Marmelete
14,7
4 h
moderate
Track Google Earth
VIAALG-12
Marmelete - Bensafrim
30
7 h
moderate
Track Google Earth
VIAALG-13
Bensafrim - Vila do Bispo
30,1
8 h
moderate
Track Google Earth
VIAALG-14
Vila do Bispo - Sagres
16,6
5 h
easy
Track Google Earth
It is also possible to do the Via Algarviana by Mountain Bike. For more information: www.toursandtracksalgarve.com/products/via-algarviana