Hikes in the National Park Peneda-Gerês
The National Park Park Peneda-Gerês, the only National Park in Portugal, is situated on the northern border of Portugal with Spain. The Park has parts lying in the districts Vila Real, Viana do Castelo and Braga.
Map of the hikes within the Park (for print version cklick onto the map):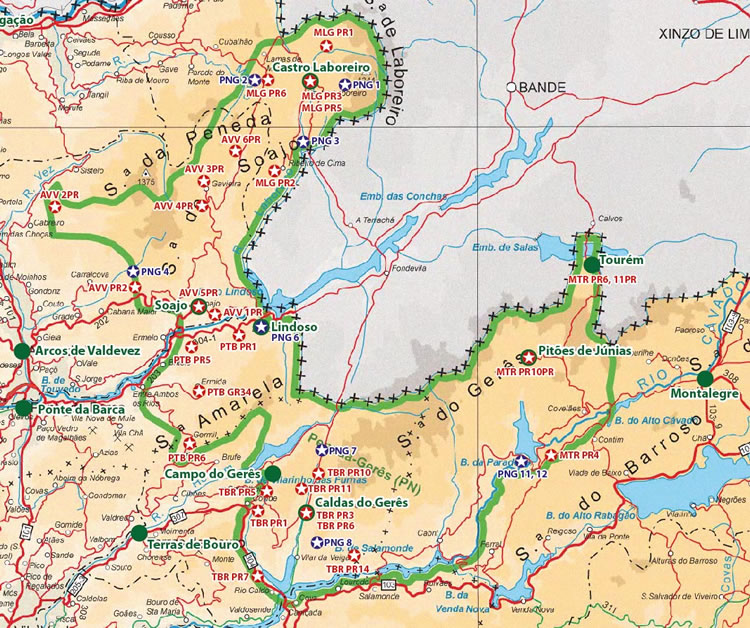 Costs Map and Track: The maps are free to download. However, we ask for a Donation of 0,50 Euro (or any higher amount!). This allows us to keep our team happy who create and update these maps.
You can donate simply with paypal:
Hikes in the P.N. Peneda-Gerês
The condition of the hikes corresponds to the advice of the Park-Administraion. Due to a large wild fire in August 2016 some hikes are not recommended.
Situation updated November 2016.
The used appreviations are:
Melgação (MLG); Arcos de Valdevez (AVV); Ponto da Barca (BTP); Terras de Bouro (TBR); Montalegre MTR); Parque Nacional de Gerês (PNG)
Day Hikes in the P.N. Peneda-Gerês
no markings - Hike only with GPS-Track